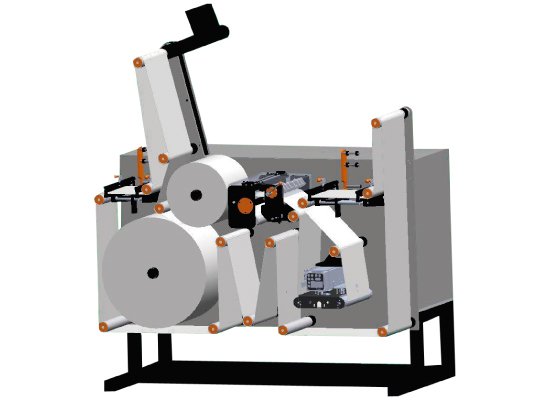 Designed and manufactured in Mexico by eGraf Equipos

JBS-B-330 label slitter rewinder for narrow web is an entry-level, economic, simple equipment without sacrificing the quality of its components. Allows label inspection, slitting and rewinding in an efficient and uniform way.

It has an excellent cost-benefit ratio, fast return on investment and ergonomic design that improves productivity in label inspection.
Economic and high performance equipment
• Fast return on investment
JBS-B-330 slitter rewinder offers an excellent cots-benefit ratio by being a simple, economic, entry-level equipment.
• Counting system and automatic stop
JBS-A-330 label slitter rewinder features an automatic stop system by label count or by roll length.
• Fast stop system
Stops the slitter rewinder in maximum 2 seconds, allowing to replace defective product before it reaches the rewinder.
• Slitting unit
Features a razor blade slitting system, easy and fast to position.
• Rewinder
Coupled directly to an inverter motor without pneumatic nor magnetic clutch, maintenance-free, that produces a uniform rewinding.
• Web path
With a 8 meters web path, or 10 meters (optional) allows stopping the label slitter rewinder before the defective material reaches the splice table to be replaced.
Ergonomic and productivity
• Ergonomic
JBS-B-330 slitter rewinder is configured in a way in which the user can inspect, detect flags, access the control panel, make splices, adjust slitting and change rolls without moving from the same place.
• Splice tables
One at the beginning (optional) and one at the end, allowing to discard defective material in two different points without having to cover the complete web path.
Internationally well-known components
• BST web guider
• Convertech air shaft
• Checkline LED stroboscope (optional)
• Siemens automation and control system
• Lenze speed control drives
• Baldor Reliance Heavy Duty motors
• Quality finishes: anodized, blued, electrostatic painting
* BST is a registered brand from BST Eltromat
* Convertech is a registered brand from Double E Company
* Checkline is a registered brand Electromatic Equipment Co.
* Siemens is a registered brand from Siemenes AG
* Lenze is a registered brand from Lenze GmbH & Co KG
* Baldor Reliance is a registered brand from ABB Motors and Mechanical Inc.