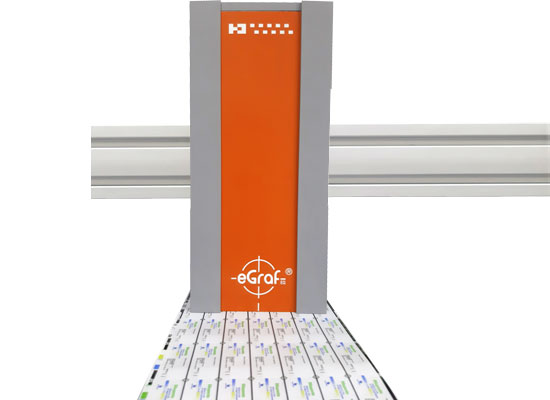 Designed and manufactured in Mexico by eGraf Equipos

inRegister is a web video inspection system specialized in rotary presses. Besides showing the registration mark in real time, it features an smart vision system that eases the analysis.

It allows analyzing registration marks, color by color, individually. Automatically, measures the registration displacement and notifies the operator in case an ink is out of registration.
• Registration marks
inRegister is a web inspection system specialized in inspection and analysis of registration marks.
• Rotary presses
Specialized in registration analysis in rotary presses.
• Image freezing
In speeds up to 200 m/min.
• Up to 10 inks
Software for analyzing simultaneously up to 10 printing inks.
• Automatic detection
inRegister web inspection system detects automatically the registration mark, reducing the set up time.
• Color separation
Allows checking each ink individually. Useful in jobs with many inks involved, since with a conventional vision system it is difficult to identify inks out of registration.
• Displacement measurement
Measures the displacement in MD (machine direction) and CD (cross direction) of each ink individually.
• Visual alarms
Notifies the operator when an ink displacement is out of the range specified by the operator.
• Versatile
Manual or automatic inspection mode. In manual mode, captures images as a conventional video web inspection system. In automatic mode, detects registration mark and measures the displacement of each ink individually.
• Intuitive panel
Simple, easy to use and user friendly
• Compact design
Requires few space and is easy to install in any rotary press.
• High performance and quality at low cost
Besides featuring functions specialized in registration marks detection, inspection and analysis, besides being build up with high quality components, its prices is similar or less than conventional systems that offer only video inspection.
• Fast return on investment
The decrease in waste and rejections related with registration issues, as well as its fast set up time with the automatic registration mark recognition, translates into savings and a fast return on investment.
• Improves printing quality
Improves substantially registration control, which allows reducing printing overlap lines thickness, obtaining higher sharpness in color selection and better definition in inverted and elements printed to registration.